Stop Press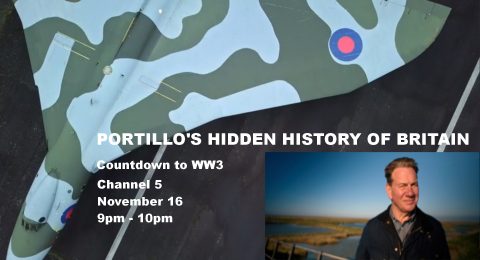 Yes – Your XM655 is in the Media again, A staring role in "PORTILLO'S HIDDEN HISTORY OF BRITAIN". She will appear in the third episode of the second series of this documentary story line. This will be shown on the 16th of November at 9pm on Channel 5.
And for those wanting to rush down and congratulate her on another in a long string of media and film appearances, we will be open as usual on Saturday, looking forward to seeing you then.
XM655 Maintenance and Preservation Society.
About Avro Vulcan B.Mk2 XM655
Avro Vulcan XM655 was third from last of the Vulcan bombers produced for the Royal Air Force, being delivered in late 1964, and was part of the UK's nuclear deterrent force throughout the 1960s and 1970s. It is now owned by Wellesbourne Airfield, and is looked after by 655 Maintenance and Preservation Society (655MaPS) which is a volunteer organisation of Vulcan enthusiasts.
XM655 is one of the few Vulcans remaining in ground running condition, the only one with the most powerful of the engine variants (Bristol Olympus 301s) and 655MaPS aim to keep it running for as long as possible. The aircraft systems, which are powered up and exercised regularly, are available for demonstration to booked parties of visitors, engine ground runs are carried out several times every year, and a "Fast Taxi" event is carried out most summers to show off the aircraft and raise funds to support its preservation.
XM655 is maintained by a small team of skilled and dedicated volunteers, many of whom are ex-RAF, (some even ex-V-Force personnel and one of whom actually worked on XM655 in service), who give up their Saturdays to preserving XM655.