Our MaPS 2014 Members' Day saw over 160 Members and 22 guests including our Guest of Honour, Flying Officer Tom Howat, who was AEO on the Delivery into Service flight from Waddington to Cottesmore in 1964. Attendees on the day were looked after by 15 volunteers with 6 Air Cadets. 3 from 150 Oxford Sqn and 240 Darlaston Sqn, with their leaders.
For some the weekend started on Friday, moving aircraft and putting up the marquees ready for the following day. Isi, Bob, Bry, Av, Nick, Eric & Kay worked really hard and stayed in good spirit in extremely foul weather when it rained heavily all day with strong winds at times. Charles was also arranging and printing documents in the warmth of his office.
Saturday started quite early with the final preparations for the big day, when the Hog Roast turned up mid-morning it put a big smile on the volunteers faces.
Our guests started to arrive at 1100 hrs with a few well-known faces to our Members: the regular Wings and Wheels Aircrew of Mike Pollitt, David Thomas and John Laycock and this year's Wings and Wheels compere Andy Marson. These, along with 655 MaPS Members Sqn Ldr Alan Coles and Wg Cdr Chris Reid participated in events, such as talks, question and answer sessions, and book signing throughout the day alongside authors Tony Blackman & Craig Bulman.
We had many activities running all day, such as the well-attended Question and Answer sessions covering a wide range of Vulcan related topics, ground equipment and under-wing tours, photo opportunities and not least the Cockpit Experience, the sensation of a Vulcan engine start-up with light and sound, which proved to be exceptionally popular.
As with the rest of the weekend the rain made an appearance for a short while, which gave the opportunity for photographers to take shots of a completely different dimension using the puddles, or was it a river?
Finally there was a twilight photographic opportunity which was very different from the previous week in that the floodlit aircraft was plunged into darkness with only the tail illuminated as a finale.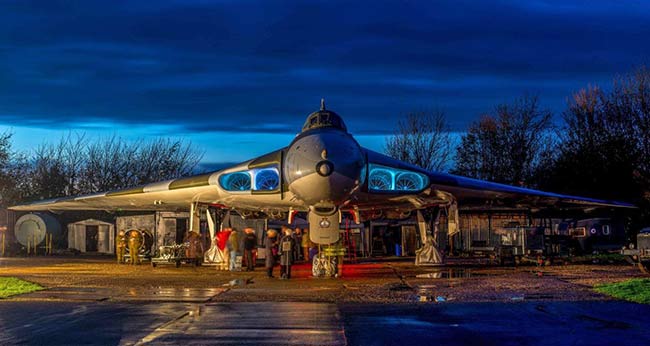 On Sunday the weather was unkind to us again as Isi, Bob, Kay, Bry, Av, Nick, Eric, Charles, Edward & Hayley took down the tents and washed them before packing away.