Normal service was resumed, not only being back to a usual Saturday but also the weather… cold and grey and time to dig out the coats!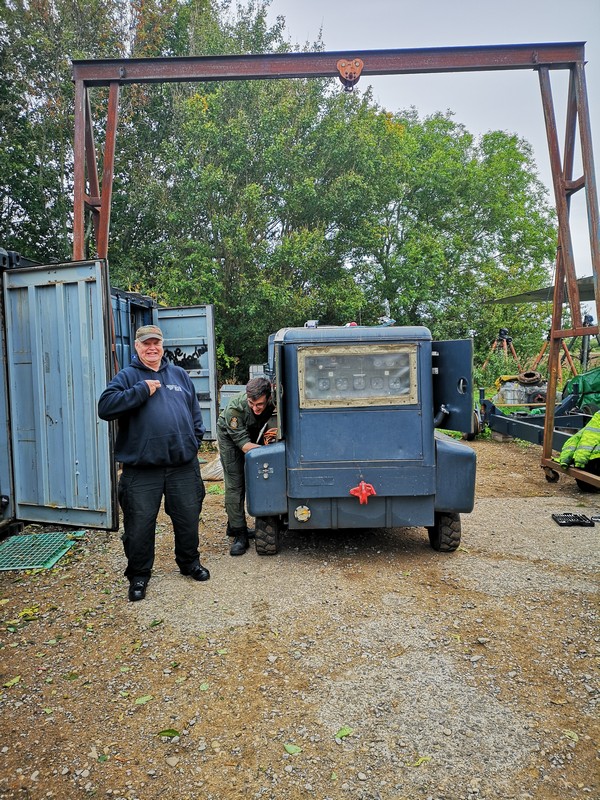 After the hard work last weekend for our Members Day, we turned our attention to work on refitting the Houchin GPU 28v TRU and trying to trace the fault on the number 4 alternator.
Refitting the TRU is no small job with the Hooch lid needing to be removed.  We moved the hoist frame into position and slowly the lid was lifted clear.  The TRU was then attached to the hoist and lifted into position before being connected.  By this time, the drizzle was starting but undeterred, the unit was fired up and was producing 28v, a great result!  This was only slightly dampened by the weather and the fact the 28v contactor wouldn't latch.  The contacts were cleaned and further tests were undertaken with the Hooch generating 28v and, now connected to a test box, the contactor was latching but the frequency was reading very high so this will be checked on the next round of testing.
Whilst all this was going on our fire extinguishers received their routine inspection and certification.
Next up was testing the cabling between the alternator and the connections on the "A" breaker in panel 61p in the power bay.  Each phase was tested and all gave positive results which would indicate that the issue is (hopefully!) not with the cabling.  We still need to check the exciter on the alternator before moving further down the circuit in our search for the cause of the issue.
Fuses for the number 4 tank and 4 group were also tested in trying to find the problem causing the invalid readout on the gauge.
This week's pictures are from Helen, Matt and James