The little bit of cloud that was around to greet us soon gave way to a beautiful sunny day and XM655 looked stunning under the clear blue sky on Armed Forces Day, which we marked by flying a flag on the pan.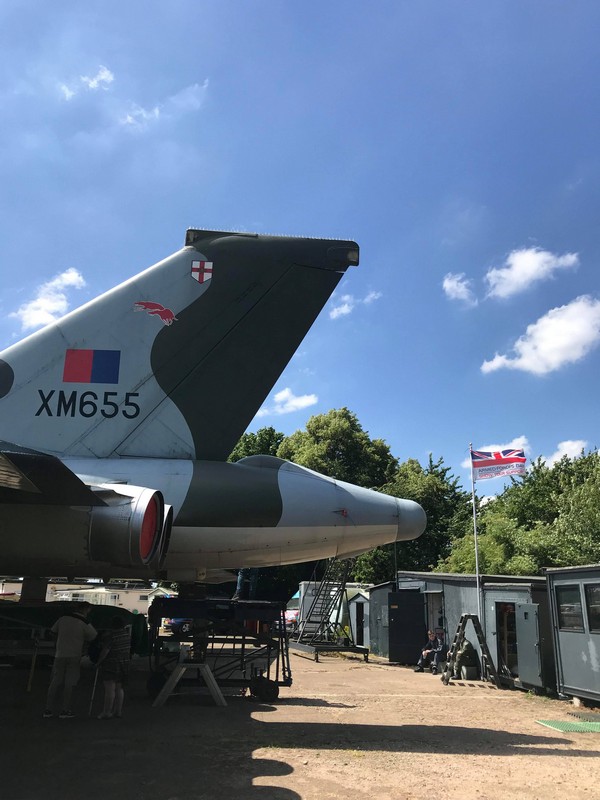 A very busy day for our volunteers with lots of jobs to keep them busy and a lot of casual visitors who enjoyed some time with the aircraft.
We were able to continue with the re-fitting of the 1000lb'ers in the bomb bay plus a repaint on the remaining one.
Checks were carried out on the tyres and their pressures, three "suspect" fuses were checked in the airbrake system in our troubleshooting quest and Derek continued with applying undercoat to some of the starboard side of the aircraft (no mean feat given the weather!)
The fuse from the fuel supply circuit which had been removed prior to the removal and re-installation of the number 2 engine was replaced which then allowed the replenishment of the oil.  The fuel system was then pressurised to enable checks for leaks which, thankfully, didn't surface.
Another highlight of the day was a visit from a beautiful P51 Mustang that gave some lovely flypasts prior to landing and then taxi'd past 655.
These pictures are courtesy of Isi Jackson, Helen Loeffler, Matt Wardrobe and James Pritchard