Another grey and gloomy start to the day, which also brought some rather chilly winds (as can be seen by the (sometimes unseasonal) headwear!  But despite this, we had a number of pre booked visits, including the AC owners club.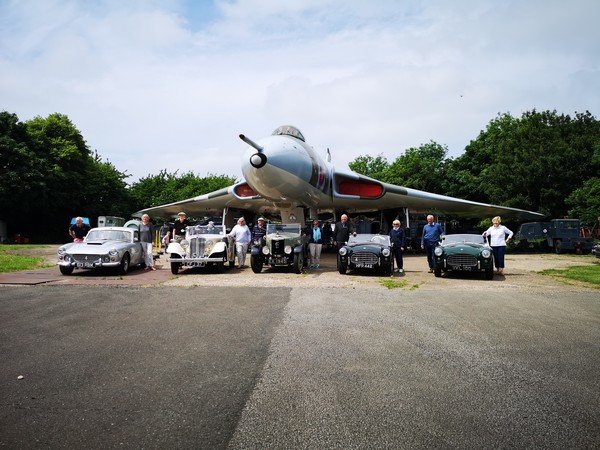 The grey skies gave way to a glorious sunny afternoon and the AC owners club had brought along some beautiful cars to be photographed with the aircraft. But not until they had heard from our knowledgeable volunteers about all things Vulcan and had a systems demo.  We also had a good number of casual visitors who were able to enjoy XM655 whilst seeing some of the work being undertaken.
First job of the day was to get the bomb bay open to allow access to not only the hydraulics that gave us problems last week, but also to remove the TRU (Transformer Rectifier Unit) from the airbrake workings for further inspection.  With some of our volunteers being kept busy with visitors, we were also able to continue work on the number 2 engine including refitting of the "bullet" at the front of the engine and connecting the fuel piping system.
Good progress was also made with preparing the starboard wing for it's new "lick of paint".
With the bomb bay open, we were able to refit seals to the main hydraulic reservoir and work on the non return valve which then meant we could drain and refill the hydraulic system.  After draining and straining the hydraulic fluid we were then able to refill it and run a cycle of tests on the bomb doors which proved successful.  We will check on this again next week to be sure.
We also had a "visit" from a Pitts Special and were lucky enough to have a flyover from the wonderful Blenheim.  Must also mention our "youngest" crew chief in training…!!
Thank you to Isi Jackson, Helen Loeffler, Matt Wardrobe, Len Hewitt and James Pritchard for todays pictures.