Back to a grey start but that didn't deter a couple of small pre booked tours, a good number of visitors or our volunteers…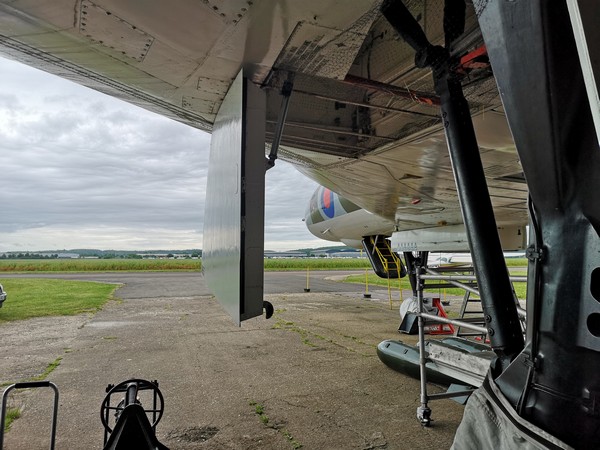 We managed to continue with the inspection of the number 2 engine, happy that all is in place.
Despite the grey start and fine showers further work was undertaken on the upper surface of the starboard wing.  This wasn't until after we had de-armed the aircraft of her remaining payload to enable better inspection of the hydraulic system and reservoir in the bomb bay.  We are pleased to report that there were no signs of further leaks and we were able to use the hydraulic rig to pressurise the system and cycle the doors a number of times to check this under load.
Work was also undertaken on one of the risers which was not, well, rising properly.  hopefully this fix has worked.  One of the aircraft batteries was charged and following inspection, the TRU (Transformer Rectifier Unit) was replaced and rewired into the airbrake system.
A lovely bonus today was a large donation of tools from a very kind supporter, thank you Bill Gilkinson.
In the afternoon we had a lovely "visit" in the form of an Antonov AN-2, the world's largest single engine bi-plane.
Today's pictures are courtesy of Helen Loeffler, Ian Almond, Matt Wardrobe and James Pritchard