After so many weeks of good weather, Saturday saw almost all four seasons in one day, all that was missing was hail or snow.  What started as a lovely morning soon got a lot cooler, windier and wetter…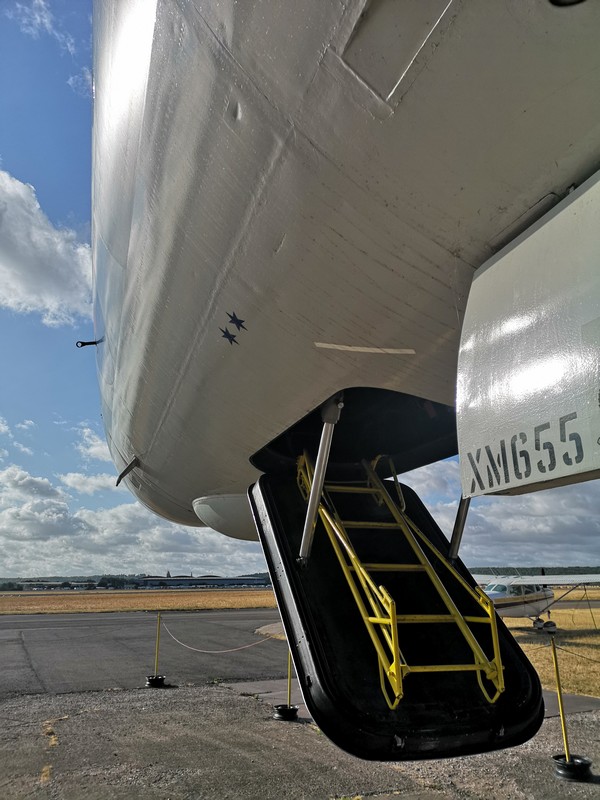 The first job of the day was to troubleshoot the alternator failure warning light which has not been blinking as it should.  A possible cause of this could have been the RAT microswitches not operating correctly so the RAT was dropped, checks done and then shut again.  This didn't remedy the issue so further investigation was undertaken throughout the day.  This led us to a Diamond H relay in the circuit which then had to be found.  The panel where the relay is located was identified and then it was time to find it!  Initial searches were conducted in the bomb bay and the power bay but to no avail.  Further studying of wiring diagrams and figures pointed to the fact the panel is located in the power bay so a further search was conducted – it was finally located…. Behind another panel!  The relay was replaced and tested.
Last week we encountered an issue with the aircraft battery not isolating and it was having to be switched off manually  using the reset coil on the battery contactor.  As we had a spare contactor, the coil was removed and swapped over and the battery isolation was again working.  The battery that was on the aircraft was also removed and swapped as the charge was not sufficient leading to intercom issues.
Further work was also carried out on the leak on the fuel feed pipe to the number 2 engine.  After checking and resealing the joint the leak is now more of a seep – more investigation on this is required.
The main and auxiliary rudder PFCU's were now operating correctly although the aux is failing to show stop following the use of the stop button – some more time is needed on this issue also.
Whilst the weather was still kind in the morning, Derek was able to start on rubbing down the elevons on the starboard side ready for painting.
During the day we had some pre booked private visits as well as a steady stream of casual visitors.  This gave us some excellent photo opportunities with the large group having their picture taken in front of XM655 as well as an Aston Martin and some motorcycles being parked in front of the aircraft.
We were also pleased to welcome back our regular AEO!
This weekend's pictures are thanks to Helen, Isi, James, Len and Matt.