Another glorious morning met our volunteers at the pan on Saturday with their numbers substantially increased over last weekend.  No time was lost in getting started with trying to remedy the fuel leak from the number 2 engine LP fuel cock and the continuation of painting the upper surface (before the temperature climbed too high to hamper it!)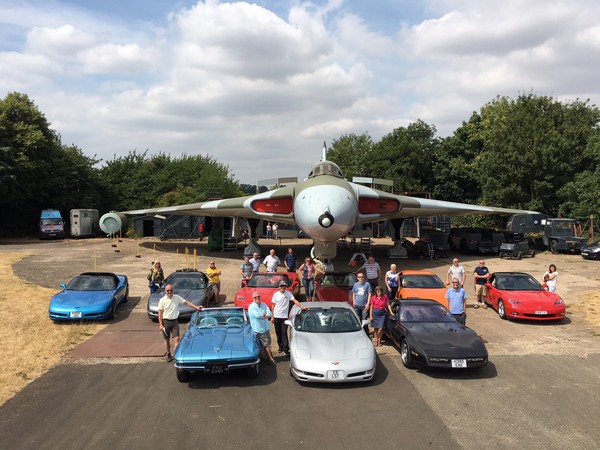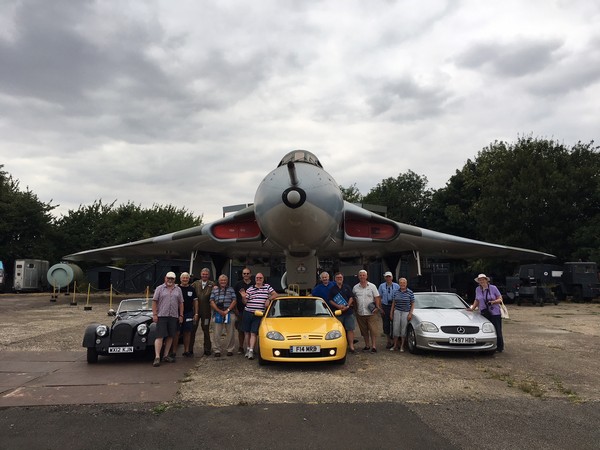 Firstly, the airbrakes were extended again to allow access to the piping and joints above.  With this access now available, the joints on the fuel pipes were checked.  It was noticed that one of the pipes was not aligned correctly which may have added to the issue.  The joint was undone and the fuel allowed to drain through.  This was then re-seated and the LP cock opened to see if the leak was still present – unfortunately it was.  The fuel cock was hastily closed again and further investigation was carried out.
We had two group visits throughout the day along with a good number of walk in visitors.  The first group visit of the day was by the Classic Corvette Club who brought along some lovely "American Muscle".  The group were given a systems demo although this was brought to an early end by the external 200v supply dropping.  Our guests were given tours and talks on the aircraft before the vehicles were parked in front of XM655 for a photoshoot.  The also gave Mike Pollitt the opportunity to swap a classic British cockpit for a classic American one!
The second group visit of the day was by the Northamptonshire Industrial Archaeology Group who also brought along some lovely cars to be photographed with the aircraft.  They too were treated to tours, talks and a systems demo.  The problem with the external supply dropping out seems to have been down to a dirty contact on the main 200v contactor on the Houchin.  This was cleaned and it appears to have remedied the problem.  During the systems demos it was noted that the auxiliary and main rudder PFC's were not operating correctly which led to a levels check and replacement of the fluids later in the day.
On a side note, there are still a few places available for the Timeline Events sunset and night shoot with XM655 on Saturday 13th October.  This is a popular event and gives people chance to capture images of a bygone era, when the Vulcan was the backbone of our nuclear deterrent.  The shoot will involve XM655 being positioned on the taxiway and she will be accompanied by period re-enactors giving the impression of her being "ready to go".  For further information and to book your place, please click on the link below.
https://www.timelineevents.org/product.php/433/avro-vulcan-b-mk2-xm655-sunset-night-shoot-at-wellesbourne-warwickshire-saturday-13th-october-2018/c9aa3c33747ecb22bfd94779f12c121a
This weekends pictures are courtesy of Anne-Marie, Helen, Lou and James